10th Anniversary of the Irpen Film Festival!

This year nominations:
ultra-short film (one minute)
alternative world (science fiction)
comedy (no comments)

* * *

10th Irpen Film Festival awards by Spectators:

Ultra-short film:
1 place - Rune Eriksson and Erik Eriksson "New pictures from Mars" (Norway)
2 place - Sergey Twob "Every day" (Ukraine)
3 place - Nikolay Bondarchuk "Dialogue" (Hungary)

Alternative world:
1 place - Quek Shio Chuan "Guang" (Malaysia)
2 place - Francesco Filippi "Loser Leg" (Italy)
3 place - Veronika Szemlova "You Shall Not Leave the Way!" (Czech Republic)

Comedy:
1 place - Thi-Von Muong-Hane, Vilakone Phachanthavong, Chongkham Phonekeo "Morning Songs" (Laos)
2 place - Levon Minasian "The Piano" (Armenia-France)
3 place - Ben and Chris Blaine "0507" (United Kingdom)

The best movie "Guang" by Quek Shio Chuan (Malaysia) was awarded by the main prize of the festival - "Golden Film".





Dear authors, thank you for the participation in the IFF and for your wonderful movies!

* * *

COMPETITIVE PROGRAM

Alternative world

"Home Was The Sailor" (Seana Kozar, Canada, 2011)
"Pawnshop" (Neshka Karadzhinska, Bulgaria, 2011)
"Guang" (Quek Shio Chuan, Malaysia, 2011)
"You Shall Not Leave the Way!" (Veronika Szemlova, Czech Republic, 2011)
"Loser Leg" (Francesco Filippi, Italy, 2010)
"A Mysterious Fish" (Giovanni Maccelli, Spain, 2008)
"Aanaatt" (Max Hattler, Japan-Germany, 2008)
"DEsign" (Mihkel Reha, Estonia, 2011)
"Out of Erasers" (Erik Rosenlund, Sweden-Denmark, 2011)
"Romeo and Juliet" (Hana Kotlarova, Czech Republic, 2011)

Comedy
"Attempt on murder" (Yekaterina Sayenko, Ukraine, 2011)
"Quiet You" (Joonas Makkonen, Finland, 2011)
"In Two Minutes" (Michalis Lygkiaris, Greece, 2010)
"Morning Songs" (Thi-Von Muong-Hane, Vilakone Phachanthavong, Chongkham Phonekeo, Laos, 2009)
"0507" (Ben and Chris Blaine, United Kingdom, 2010)
"The Piano" (Levon Minasian, Armenia-France, 2011)
"A Lesson in Filmmaking" (Slaven Zimbrek, USA-Croatia, 2004)
"Albert" (Csaba Bardos, Hungary, 2011)
"Modern Communication" (Franck Isabel, France, 2012)
"The Queen of Hearts" (Dita Krcova, Czech Republic, 2011)

Ultra-short film
"Big Bang" (Tatiana Moshkova and Nino Kavtaradze, Russia-Georgia, 2011)
"My Beautiful City" (Mohammad Ebrahim Shahbazi, Iran, 2011)
"The Introduction Video of Janne Anttila" (Joonas Makkonen, Finland, 2011)
"2 Cents" (Michalis Lygkiaris, Greece, 2011)
"One Minute Movie" (Vladimira Macurova, Czech Republic-Poland, 2011)
"The Piece of Furniture" (Giovanni Maccelli, Spain, 2009)
"Smile" (Jared Katsiane, USA, 2008)
"Sketch" (Jared Katsiane, USA, 2008)
"The Bosom" (Dmytro Bondarchuk, Ukraine, 2011)
"Bogdana" (Sergey Twob, Ukraine, 2012)
"Dialogue" (Nikolay Bondarchuk, Hungary, 2012)
"Every day" (Sergey Twob, Ukraine, 2012)
"Hand of God" (Rune Eriksson and Erik Eriksson, Norway, 2010)
"New pictures from Mars" (Rune Eriksson and Erik Eriksson, Norway, 2010)
"The Nose" (Nikolay Yeriomin, Ukraine, 2012)
"Attack of the Banana Peel" (Nikolay Yeriomin, Ukraine, 2012)



* * *

IFF-10 poster: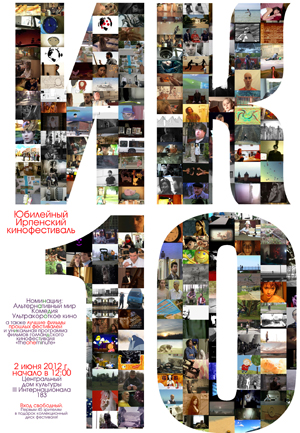 * * *

Electronic journal
with complete description of all films